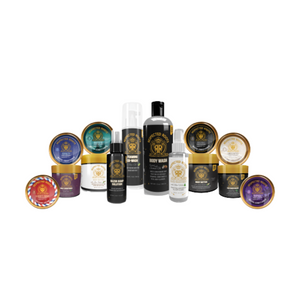 Have you already tried our amazing products and decided you love everything? Well, now you can buy it all at once, click the link below to purchase.
Respected Roots Premium Collection Kit Includes one of each of the following items:
Foaming Co-Wash, Body Wash, Razor Bump Solution, Hand Sanitizer, Original Scent Body Butter, Sensitive Skin Body Butter, Hair Moisturizer, Wave Conditioner, Shaving Cream, Beard Conditioners: Original, Royalty, Tropical, Majestic & Unscented 
*HOT WEATHER SHIPPING ADVISORY*
At Respected Roots, we do not use synthetic stabilizers.  As a result, our natural products can be sensitive to hot temperature changes and melt during the shipping process.
Purchasing Respected Roots Package Protection when you place your order will ensure your package is covered 100% should your order arrive damaged or melted.
We highly recommend adding Package Protection to your order.
Customers who decline Respected Roots Package Protection may not be reimbursed for damaged, melted, lost, or stolen products. 
Learn more about our Warm Weather Shipping Advisory by clicking this link: https://www.respectedroots.com/pages/warm-weather-advisory
*Note The shipping carrier may delay some packages and may arrive later than initially anticipated.