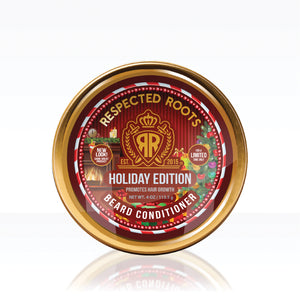 Limited Edition
Respected Roots Beard Conditioner - Holiday Fragrance
Respected Roots Beard Conditioners are curated with natural ingredients such as Cocoa Butter, Vitamin E Oil, and Tea Tree oil, just to name a few. 
Our Holiday edition is only produced during the holiday season.  You'll fall in love with our premium fragrance, containing notes of warm Chestnut, Almond, and Vanilla. Our products will eliminate dandruff and itchiness, prevent breakage, prevent split ends, and promote hair growth to help fill in dry, "patchy" facial hair.
Growing a healthy beard starts with healthy skin so we focus on nourishing the skin beneath the beard.
Our Conditioners are non-greasy and will absorb into the skin and hair instead of ineffectively laying on top of the skin. We use a small amount of wax in our formula to ensure that it will last all day without the need to re-apply. Water and unnatural preservatives are not used in our formula, we only choose premium ingredients that actually work.
To use, simply apply a nickel-sized amount to the palm of your hand, rub your hands together until the product turns into a clear oil, apply it to your beard then style as desired using a comb or brush.