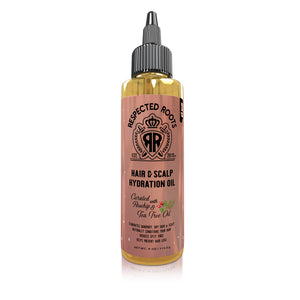 Your Hair & Scalp Hydration Oil is Finally Here!
Formulated with Rose Hip and Tea Tree oils to promote hair growth and prevent hair loss.
Respected Roots Hair & Scalp Hydration Oil is perfect for the entire family. Both men and women should use this product daily to immediately add sheen and hydration to the scalp and promote hair growth.
To use, simply apply a quarter-sized amount to your hands and massage into your hair and scalp, or use the pointy tip applicator to apply the product directly to your scalp to avoid disturbing your hairstyle and massage with your fingertips. All-Natural ingredients include coconut oil, rose hip oil, sesame oil, jojoba oil, argan oil, and tea tree oil.
* Works great with Respected Roots Hair Moisturizer & Wave Conditioner
* Reduces the appearance of gray hair (anti-aging)
* Controls Dandruff (hydrates scalp)
* Reduces Split Ends
* Thickens & Nourishes thinning hair strands
* Protects your hair from the elements (UV rays)
* Natural Conditioner
* Smells Great
* Adds a natural, healthy-looking sheen to your hair 
* Perfect for Protective Styles
* Great for hydrating Locks, Twists & Braided hairstyles