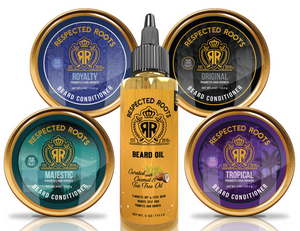 Kings crave variety, so we offer a flight of our Beard Conditioners and our Beard Oil allowing you to switch up your swag every day of the workweek. Whether you already have a favorite fragrance or you find it difficult to decide, we've got you covered!
Beard Oil: Perfect for any man that wants to go that extra mile to care for his beard. Our Beard Oil can be used by itself but is best when used in combination with Respected Roots Beard Conditioners and Foaming Co-Wash.
Original Scent: Handsome, Classic notes of Citrus, Lemongrass, and Lavender. Every King's go-to fragrance.
Tropical Scent: Creamy Coconut, Pineapple. Island vibes... every King needs to relax and take time to enjoy life.
Royalty Scent: Clean & Woodsy. Notes of Sandalwood and Tobacco. For a confident, distinguished King.
Majestic Scent: Bergamont, Orange Peel, Lemongrass. For Kings who are feeling Adventurous. Concor the world, or chill, it's up to you. Whatever you choose you'll smell great doing it!
Unscented Beard Conditioner: Au-Naturale, No fragrance added. And on the fifth day, the King got a little r&r.
*HOT WEATHER SHIPPING ADVISORY*
At Respected Roots, we do not use synthetic stabilizers.  As a result, our natural products can be sensitive to hot temperature changes and melt during the shipping process.
Purchasing Respected Roots Package Protection when you place your order will ensure your package is covered 100% should your order arrive damaged or melted.
We highly recommend adding Package Protection to your order.
Customers who decline Respected Roots Package Protection may not be reimbursed for damaged, melted, lost, or stolen products. 
Learn more about our Warm Weather Shipping Advisory by clicking this link: https://www.respectedroots.com/pages/warm-weather-advisory
*Note The shipping carrier may delay some packages and may arrive later than initially anticipated.