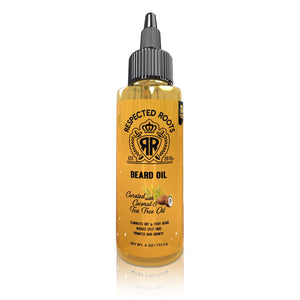 Respected Roots Beard Oil is Finally Here!
Formulated with Coconut Oil and Tea Tree Oil to promote growth, soften hair, and add a healthy-looking sheen to your Beard.
Respected Roots Beard Oil is perfect for any man that wants to go that extra mile to care for his beard. Our Beard Oil stands alone and can be used by itself but is best when used in combination with Respected Roots Beard Conditioner and Foaming Co-Wash. 
To use, simply apply a quarter-sized amount to your hands and massage into your beard. All-Natural ingredients include coconut oil, grapeseed oil, apricot oil, jojoba oil, and tea tree oil.
* Works great with Foaming Co-Wash & Beard Conditioner
* Reduces the appearance of gray hair (anti-aging)
* Controls dry skin (beard dandruff) 
* Reduces Split Ends
* Thickens & Nourishes hair strands
* Adds a natural, healthy-looking sheen to your Beard 
* Smells Great