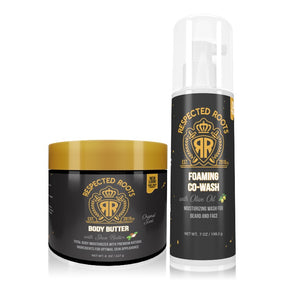 Respected Roots Morning Kit
Our Respected Roots Morning Kit couples our customer favorite Body Butter with our Foaming Co-Wash, which cleans the skin of bacteria, clears pores, and softens the texture of beards. It also gently, yet thoroughly removes makeup. This is the perfect bundle to start the morning off right!
To use Foaming Co-Wash:
Traditional body wash and soaps are notorious for removing too much of the oil that your body naturally produces leaving your skin feeling dry, tight, and restricting hair growth. 
Olive Oil is used in our formula so it won't over-dry your skin, creating the best conditions for hydration and growing a healthy beard.
This product has a light, clean scent and works best when used in combination with any one of our Beard Conditioners. It also creates the perfect palette for applying makeup or your favorite skin serum.
To use, simply wash your entire face and beard with the Foaming Co-wash, towel dry.
To use Body Butter:
Respected Roots Body Butter is a unisex total body moisturizer - made using only natural, premium ingredients such as Shea Butter, Tea Tree Oil, and Apricot Oil.
This product should be used daily to help eliminate dryness, leaving you feeling soft & smooth and providing a healthy sheen to your skin without being too oily.

Traditional lotions and body creams are ineffective because they can contain up to 80% water, while our premium formula contains no water at all. This means that our product will last you all day without the need to re-apply every few minutes.

Our customers also love the light & fresh scent of this product because it won't clash with any of your favorite colognes or perfumes, should you choose to wear them. 

To use, simply massage the Body Butter onto your skin with slow sweeping motions focusing on areas that are dry like the knuckles, knees, elbows, heels, etc.
*HOT WEATHER SHIPPING ADVISORY*
At Respected Roots, we do not use synthetic stabilizers.  As a result, our natural products can be sensitive to hot temperature changes and melt during the shipping process.
Purchasing Respected Roots Package Protection when you place your order will ensure your package is covered 100% should your order arrive damaged or melted.
We highly recommend adding Package Protection to your order.
Customers who decline Respected Roots Package Protection may not be reimbursed for damaged, melted, lost, or stolen products. 
Learn more about our Warm Weather Shipping Advisory by clicking this link: https://www.respectedroots.com/pages/warm-weather-advisory
*Note The shipping carrier may delay some packages and may arrive later than initially anticipated.